Hi guys! I did promised to you guys that I will do a post on my trip to the east, Terengganu. It'snot that much but still it's worth telling to the whole crowd. On 4th February, we went to straight to Tanah Merah, Kelantan from our house right at 8 a.m. I was still sleepy during the journey as I slept very late the night before the trip. Nothing much on the traveling so I'll skip right to where we arrived in Terengganu. As soon we stepped in the state, we were welcomed by many flags of various parties fighting their way to fish the people's vote. (I'm not Kay-Ay, dont worry. Takdak lah rahsia-rahsia kerajaan). I was shocked on how much the politicians in our country are ready to fight for the their rightful place. I took pictures and prayed that our SPM examintaion result won't come sooner that it's supposed to or else, I'm really REALLY gonna blame the governments.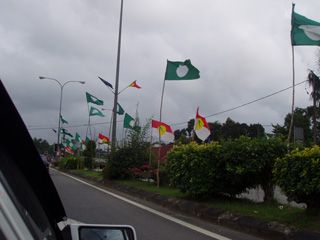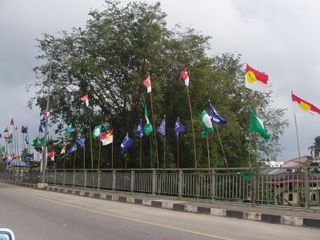 After that we reached Kuala Teregganu and there, the biggest Mydin Mall I had seen in my whole life was next to the main road. I was excited by just seeing the building. Then another 2 hours of driving just to arrive at Kerteh where Kak Ifa is currently staying. I was sleeping the whole journey and was scolded by mak for snoring to loudly. Sorry! Can't help it while your sleeping mom! We took the wrong urn and took the alternative road to Kerteh and which the road had been torturing us the whole 2 hours with it's bumpiness and in the process of repairing. I just sighed and prayed that it's gonna be over soon and it did. I was sleeping. Heheheha :P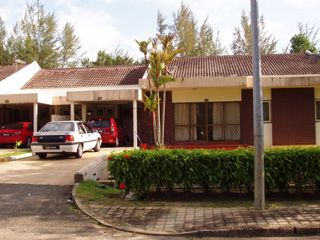 Well, this is my sister's house. They rented it from Petronas and to tell you guys it's really worth it as they have their own clinics, recreation area and their own guards as well. The whole are is filled with either engineers or technician working for Petronas and it's so windy and breezy there that it's very soothing even at noon where the weather is supposed to be hotter than usual. I kinda love this place except that it's just isn't Kedah.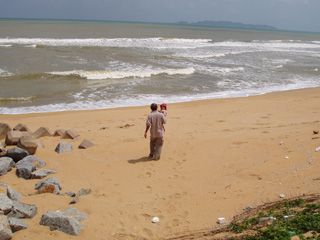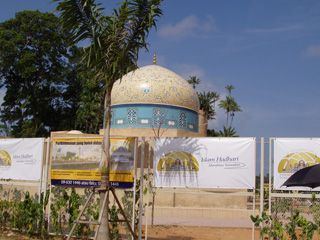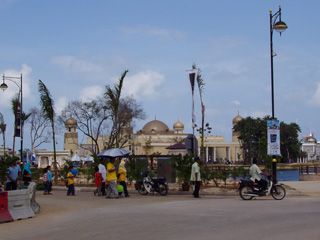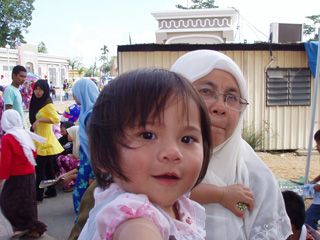 Sometime after we went to Terengganu to visit the Taman Tamadun Islam only to be disappointed by the huge crowd. We walked from the entrance to the site which is like 1km far. And I had to carry Ain the whole walk. Furthermore, the monument was very small and it doesn't anticipated me to take a snap of the monuments. It's just a waste of energy and money by the Governments. The monuments was still in the process of building and it doesn't have the aura of telling you to go there. What a waste! 200+ million ringgit all for nothing. That money could make thousands of homeless people happier and thousands of single mother much more easier in raising their kids. Think about it. All the way, I could only see wooden houses which is waiting for it's time to crumble and join the dirts on the ground. What are we doing?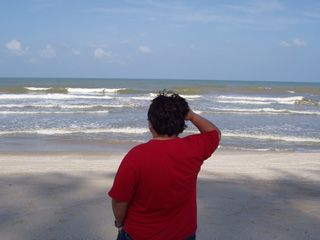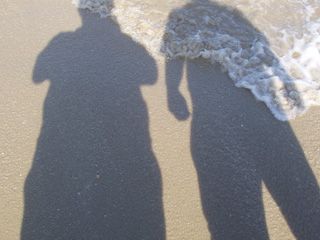 After that we went to a beach in Kuala Terengganu. It was partially crowded but it's fun to walk on the beach. There, got some horses and ponies. There were... hmm, I don't like horses that much. Never liked them. I just walked on the beach and snapped some pictures and there. Nothing. Then we decided to go back home. Kak ifa's place lah.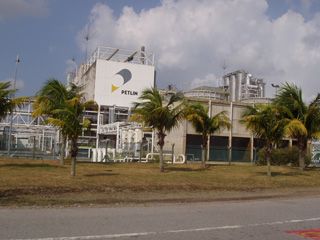 It was time for us to go back to Kedah. On my way back home, we passed the Petronas' Silo, where my brother in law and kak ifa work. They said they wanted to bring me in but they didn't. It wasn't just my luck. After all, I really don't like mechanical stuff, but hey, knowledge is power. If you guys came at night, the place would be bright with neon lamps and the flames that they burn the after products of gases and petroleum. Hmm, wonder what's really in there? That's all. Good night!