This section is for my wish list so that I can track down the things that I wanna buy later. It's quite a lot you know.

1.
I want a Digital SLR Camera
I don't care which brand it is, (personally, I prefer Canon), as long it is digital SLR with great features so that my pictures can be taken with ultimate perfection.
You stole my breath away.. (kidding, haha)
2.
Iphone, please!
3.
Games, light my life.
4.
Windows? Toss it in the dishwasher.
Windows? I really get annoyed sometimes with Microsoft Windows. I just don't know why but it really pissed me off to use it sometimes. I've always been attracted to Apple Mac. Wonder how does it work? Again, price constriction here.
5. Digivice IC
Yeah, yeah, I know. It's not real. So what? I just want one. Hehe. And a digimon pet too!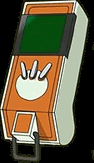 Although the last one is quite impossible, I can still watch the anime. Wish it was real though. Hehe